Aluminum sheet 1050 h14 is a commonly used product. Aluminum sheet 1050 belongs to a series of pure aluminum sheets, 1050 refers to aluminum sheets with an aluminum content of 99.5%. The tempers of 1050 aluminum sheet are: H14 temper, H24 temper, H32 temper, O soft temper, etc. The thickness of 1050 h14 aluminum sheet is 0.2mm-50m, the width of 1050 aluminum sheet are 1000/1220/1250 /1500/2000mm, and the length are 2000/2440mm. The size of aluminum sheet 1050 can be customized in Haomei Aluminum, we also have 1050 aluminum sheet in stock which can be delivered immediately.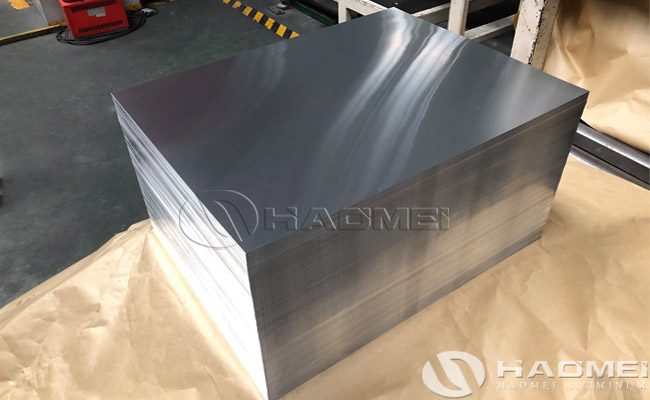 Aluminum sheet 1050 h14 has the characteristics of high plasticity, corrosion resistance, good electrical conductivity and thermal conductivity, but it has low strength, can not strengthened by heat treatment, poor machinability, acceptable for contact welding and gas welding. The chemical composition and mechanical properties of 1050 aluminum sheet are similar to 1060 aluminum sheet, and they are basically can be replaced by 1060 aluminum sheet in current applications. 1050 h14 aluminum sheet are mainly widely used in billboards, signs, nameplates, luggage, fan blades, lighting equipment, ceilings, photo frames and other industries. 1000 series aluminum sheet is seen to be the most wide applied aluminum sheet series because of low cost, good performance, in ordinary application area, 1050 aluminum sheet, 1060 aluminum sheet, 1070 aluminum sheet and 1100 aluminum sheet are welcomed on the market.
Aluminum sheet 1050 h14 is formed by adding a small amount of copper element to pure aluminum. It has excellent forming and processing characteristics. Good rust resistance and low price are the biggest feature of 1050 h14 aluminum sheet. Because the production process is simple and the technology is mature, 1000 series aluminum sheet as 1050 aluminum sheet has a great advantage in price and high cost performance.
Contact Us
1103, No.14 Waihuan Road, CBD,Zhengzhou, China
+86-0371-65621391