Aluminum for trailers is the development of lightweight cars. The use of aluminum in trailer compartments can reduce the overall weight of the vehicle to a certain extent and realize the lightweight of the body, thereby reducing carbon dioxide emissions, improving fuel efficiency, and ensuring energy-saving effects to a greater extent. The aluminum alloys for trailers are: 5000 series alloy: 5182 aluminum plate, 5083 aluminum plate, 5086 aluminum plate, 5052 aluminum plate, 5454 aluminum plate, 5754 aluminum plate, and 6000 series alloy: 6061 aluminum plate, 6063 aluminum plate, 6082 aluminum plate.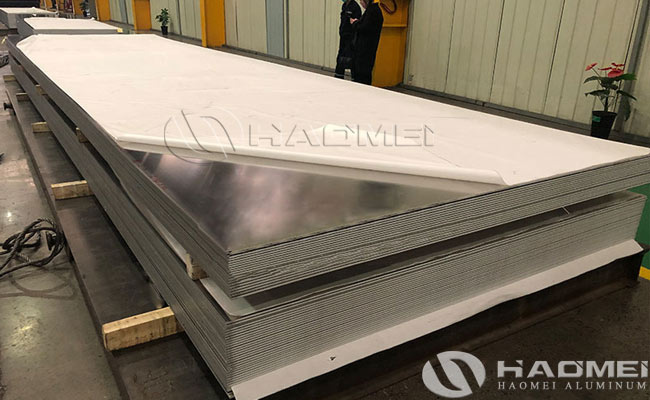 Common aluminum sheet for trailers bodies include 5083 aluminum plates and 5454 aluminum alloy plates. The 5000 series aluminum alloys for trailers are mainly aluminum-magnesium alloys, which have good corrosion resistance, excellent weldability, good cold workability and medium strength. It has a wide range of applications, especially in the construction industry, which is inseparable from this alloy. The 5000 series aluminum for trailers is the most promising alloy. Haomei Aluminum has considerable experience in producing 5000 series aluminum sheet for trailers products. Of course, good equipment and tools are indispensable to produce good products. The production equipment used by the company is advanced in the world, which can ensure that the surface of the aluminum plate does not appear flaws, vibration marks, burrs and other defects, and the excellent product quality has won the favor of the industry market. With the development of the car body market, the coverage rate of aluminum trailer body materials will be higher.
Alloy aluminum for trailers has the characteristics of good oxidation resistance, corrosion resistance and excellent rust resistance. The finished aluminum sheet for aluminum alloy trailer has a long service life, at the same time, it is easy to process and shape, reduce material waste, and is economical and practical.
Contact Us
1103, No.14 Waihuan Road, CBD,Zhengzhou, China
+86-0371-65621391