Aluminum embossed sheet, also named as aluminum checker plate, aluminum tread plate, it is a kind of aluminum sheet metal with pattern on the one side surface. What are the difference of aluminum embossed sheet and ordinary aluminum sheet? What is the application of it? How to protect it? That is all the information that aluminum embossed sheet suppliers can tell us.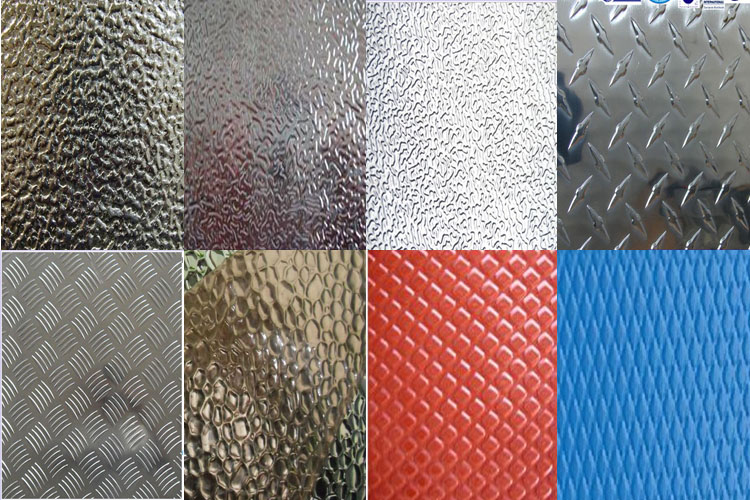 Firstly, the aluminum embossed sheet is different, drawing pattern on the surface of aluminum sheet is not very simple, which means that the producing process add one more, not just add the machine equipment investment, but also more human energy.
Secondly, the pattern appearance is not just play a decorative landscaping effect role, but is to assume the anti-skid effect under curtain environment, as the more clear the texture is, the stronger the anti-skid is.
Thirdly, aluminum embossed sheet has a variety of types can be used for different application, to common aluminum sheet, usually use 1060 aluminum sheet as a material for processing, the production and processing costs are relatively low, suitable for vehicle floor in general conditions. To aluminum-manganese alloy sheet, 3003 aluminum sheet used as the primary material for processing, with a certain strength and impact resistance, anti-rust and anti-corrosion ability, mainly used in train cabin. To aluminum-magnesium alloy sheet, 5052 or higher level as the primary material for processing, with high strength and hardness, rust and corrosion can be very strong, can be used for ships and even aerospace.
Finally, the aluminum embossed sheet is also a metal material, aluminum embosses sheet suppliers tell us, in the daily use of the process also need scientific approach to protection. Regular cleaning, to the stains on the appearance, use the water or the corresponding cleaning agent to cleaning, the remain stains is easy to cause deformation of the plate.
Contact Us
1103, No.14 Waihuan Road, CBD,Zhengzhou, China
+86-0371-65621391