The aluminum coil for car license plate are produced in plain or coated surface for making license plate of vehicle. With the rapid development of the automobile industry, the demand for lightweight aluminum materials for automobiles is becoming more and more stringent. The demand for aluminum for car license plates has increased significantly. Aluminum substrates are coated with fluorescent reflective materials and processed into aluminum car license plate by pressing and drying. As a manufacturer of aluminum sheet coil, Haomei Aluminum has more and more experience in aluminum sheet for car license plate materials.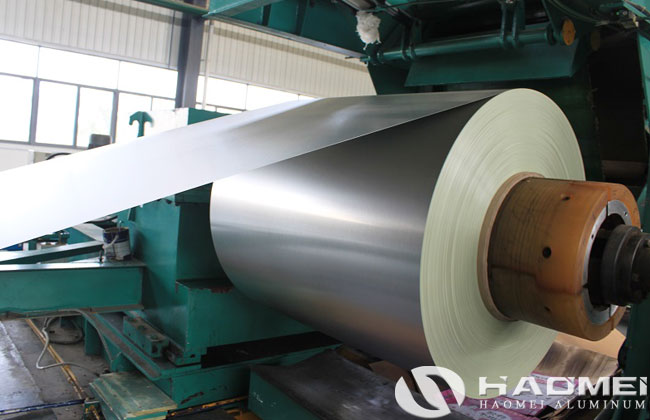 There are generally two types of aluminum coil for car license plate, 1100 aluminum sheet coil with a large amount, and 5052 aluminum sheet with higher requirements.
1, The 1100 aluminum sheet for license plate is industrial pure aluminum plate, the aluminum content (mass fraction) is 99.00%, its strength is relatively low, and it cannot be strengthened by heat treatment. It has high corrosion resistance, electrical conductivity and thermal conductivity, low density and good plasticity. It can produce various aluminum materials through pressure processing, but its strength is low. It has excellent ductility, formability, weldability and corrosion resistance; after anodizing, the corrosion resistance can be further improved, and a beautiful surface can be obtained at the same time; but it cannot be strengthened by heat treatment.
1100 aluminum sheet is usually used to require good forming performance, high corrosion resistance and high strength, such as food and chemical handling and storage equipment, sheet metal products, hollow hardware processed by drawing and spinning, welding combination keys, reflectors, utensils, heat sinks, cooking utensils, bottle caps, printed boards, building materials, heat exchanger components, nameplates, etc.
2, 5052 aluminum plate, the main alloy of the aluminum car license plate of some customers with high requirements is aluminum-magnesium alloy plate 5005 and 5052 aluminum plate. 5005 aluminum alloy h34 and 5052 aluminum alloy plate are mature markets of Haomei Aluminum, with stable quality and performance, good formability and corrosion resistance.
Haomei Aluminumhave richa experiende in supplies aluminum coil for car license plate from stock, with complete thickness specifications, and preferential prices for aluminum sheet for license plate materials. Welcome to call us for negotiation.
Contact Us
1103, No.14 Waihuan Road, CBD,Zhengzhou, China
+86-0371-65621391