The main material of aluminum 5052 sheet is AL-Mg alloy, Haomei Aluminum offer prime quality 5052 aluminum sheet with reasonable price. This type of AL-MG alloy material has good corrosion resistance, good weldability and good cold working. 5052 aluminum sheet can be seen as one of the typical alloy sheet in 5000 series aluminum sheet product. 5052 alloy aluminum sheet is widely used in the automobile industry, generally used in automobile fuel tanks, fuel pipes, conduits, low-load parts, etc., and can also be used in the production of various liquid containers.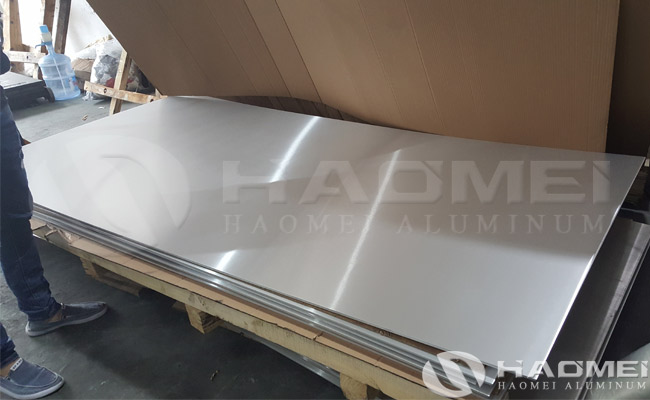 Aluminum 5052 sheet is a widely used rust-proof aluminum sheet, especially the construction industry cannot do without this alloy, it is a promising alloy. Magnesium is the main alloying element in the 5052 alloy aluminum sheet, and it is a widely used anti-rust aluminum. This 5052 aluminum alloy has high strength, especially fatigue resistance, high plasticity and corrosion resistance, cannot be strengthened by heat treatment, good plasticity in semi-cold work hardening, low plasticity in cold work hardening, good corrosion resistance, good weldability and poor machinability performance. 5052 aluminum sheet can be polished. 5052 alloy aluminum sheet is easy to process. The usage and performance of aluminum sheet 5052 are (corrosion resistance, rust prevention, oxidation) refrigerator lining plate, marine aluminum plate, ship, easy to process home appliances.
Haomei Aluminum have rich experience in manufacturing 5052 aluminum alloy materials. The tensile strength of the aluminum 5052 sheet is between 210-230, the elongation of the 5052 aluminum sheet is between 12-20%, and the aluminum sheet 5052 is more resistant to corrosion in special environments. 5052 aluminum sheet plate material for RV has low density, light weight and high strength, which is conducive to the lightweight of the whole vehicle, reducing the center of gravity and total mass of the vehicle, and improving the safety of driving long term.
Contact Us
1103, No.14 Waihuan Road, CBD,Zhengzhou, China
+86-0371-65621391