Top aluminium roofing sheet factories in China including Haomei Aluminum supply good quality 3003 and 3004 aluminum roofing sheet product. The building roof has certain requirements for construction materials. Nowadays, the building roofing materials are mostly processed and produced with 3000 series aluminum-magnesium-manganese alloy sheet materials. Among them, the 3003 and 3004 aluminium sheet material has anti-rust performance, heat preservation effect and easy processing and forming. The characteristics have become the material of choice for many building roof manufacturers.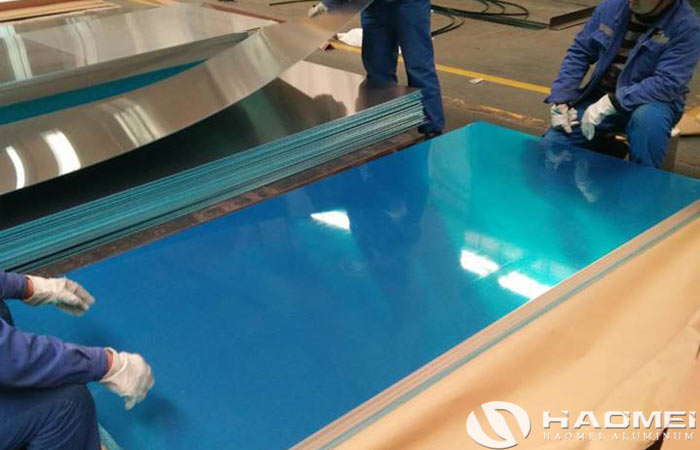 Advantages of 3003 and 3004 aluminum sheet offered by aluminium roofing sheet factories:
1, 3004 and 3003 aluminum roofing sheet has good formability, weldability and corrosion resistance.
2, Good forming characteristics, high corrosion resistance, good weldability and conductivity, and higher strength than other aluminum sheet alloy.
3, The surface of 3003 and 3004 aluminium roofing sheet is flat, good plasticity and pressure resistance.
4, Adopt advanced grinder equipment to reduce aluminum roofing sheet product defects.
Aluminium roofing sheet factories – Haomei Aluminum offer 3004 and 3003 aluminum roofing sheet product with complete specifications and customized on demand.
1, Full specifications. Haomei Aluminum can customize 3003 3004 aluminum sheet coils in various states according to customer needs, with a thickness of 0.1-500mm, a width of 100-2650mm, and a length of 500-16000mm, with delivery in 2-35 days.
2, Strict production. In the production process, each process is strictly controlled to control the thickness, plate shape, surface, mechanical properties and other aspects, so that the product has appropriate strength and formability.
3, Strong strength. Haomei Aluminum has a standardized factory building, advanced equipment and relatively mature technology. We produces 1-8 series aluminum sheet, strip and foil products. The products are exported to more than 130 domestic and foreign regions and distributed globally.
Contact Us
1103, No.14 Waihuan Road, CBD,Zhengzhou, China
+86-0371-65621391