Haomei supply various aluminium plate cut to size specifications of 1050, 1060, 1070, 1100, 3003, 3004, 5052, 5083, 6061 alloy. Materials are widely used in stamping production, home appliance industry, sheet metal production, decoration curtain wall, automobile industry, mold processing, ship manufacturing, pipeline insulation, lighting, advertising signs, etc.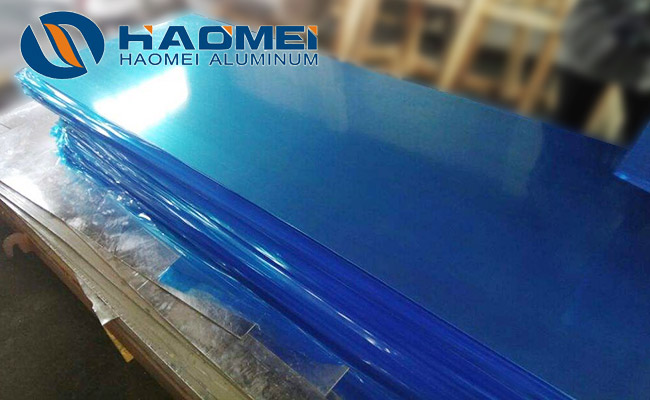 Haoemi has aluminum plate leveling and cross cutting equipment production line, aluminum strip longitudinal cutting and slitting equipment production line, with a daily processing capacity of 30-50 tons. Other professional processing equipment is equipped with aluminium plate shears, large thick plate sawing machines, pipe and bar sawing machines, cutting machines, laminating machines, etc. It can be engaged in the flattening, cross cutting, longitudinal cutting, slitting, sawing, shearing, laminating, circular cutting, triangular cutting and other special-shaped processing of aluminum plate, strip, bar, square and tube, especially in the aspect of clean scale sawing of aluminum medium and thick plate (mold plate), with strong ability, short construction period, high quality and low price, so as to provide the most economical and reasonable aluminum clean scale material and fine material for users.
The quality requirement of aluminium plate cut to size are:
1, The surface of the aluminum plate shall be clean and free of cracks and oxidation sundries.
2, The surface of the aluminium plate is allowed to have defects such as indentation, scratch, roll indentation, etc., but its depth shall not exceed the allowable negative deviation of the plate, and the minimum thickness shall be ensured.
3, The process aluminum thick plate is allowed to have the falling part of the cladding layer and the bubble of the cladding layer.
4, The defects within the range of thickness difference are allowed to be removed on the surface of plate.
5, Other requirements: to be prepared by the demander and supplier.
Contact Us
1103, No.14 Waihuan Road, CBD,Zhengzhou, China
+86-0371-65621391