The aluminium painted sheet coil refers to the coloring treatment of the surface of the aluminum alloy, the coating paint are PE and PVDF. Because the performance of the aluminum sheet alloy is very stable and it is not easy to be corroded, the surface layer can be guaranteed to be fading for at least 30 years after special treatment, and because of its low density and high hardness, the weight per unit volume is the lightest of the metal materials.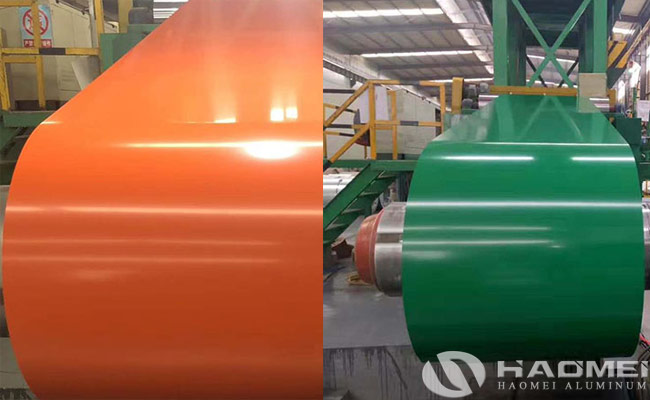 The pre painted aluminium sheets are widely used in the processing and production of aluminum-plastic composite panels, aluminum veneers, roof panels, aluminum ceilings, aluminum doors and windows, household appliances, instrument control panel machinery manufacturing.
Coating: fluorocarbon, polyester
Aluminum sheet thickness: 0.25-2.5mm
Standard width 1000-1200mm Special width: 50mm-1500mm
Core diameter: 150mm, 405mm, 500mm, 505mm, 510mm
Coating thickness: PVDF (fluorocarbon) >=25micron POLYESTER (polyester)>=18micron
Nowadays, color coated aluminum coils have become one of the most popular top decorative materials. It is a green that is environmentally friendly, durable and aesthetically pleasing. As a decorative material, aluminium painted sheet has the following advantages that are incomparable with other products: uniform color, smooth and bright, strong adhesion, durable, acid and alkali resistant, corrosion resistant, weather resistant, resistant to decay, abrasion, UV radiation, and weather resistance.
Contact Us
1103, No.14 Waihuan Road, CBD,Zhengzhou, China
+86-0371-65621391