The aluminium chequered plate for trailer flooring usually adopt 5 bars aluminum plate with great anti-slip function and decoration function. The aluminium checker plate for trailer flooring material is 3003 H18/H24, is very light in weight, high in flatness, good in flame retardancy, high in bending strength, compressive strength and peel strength, and has been used in buses floors, RV partitions, desktop panels, square cabins, and modified cars are all useful. The aluminium chequered plate  for trailer is made of rust-proof aluminum alloy and other billets through equipment rolling. The trailer floor aluminum checkered plate is flat, and the cutting size is precise, which is easy to install.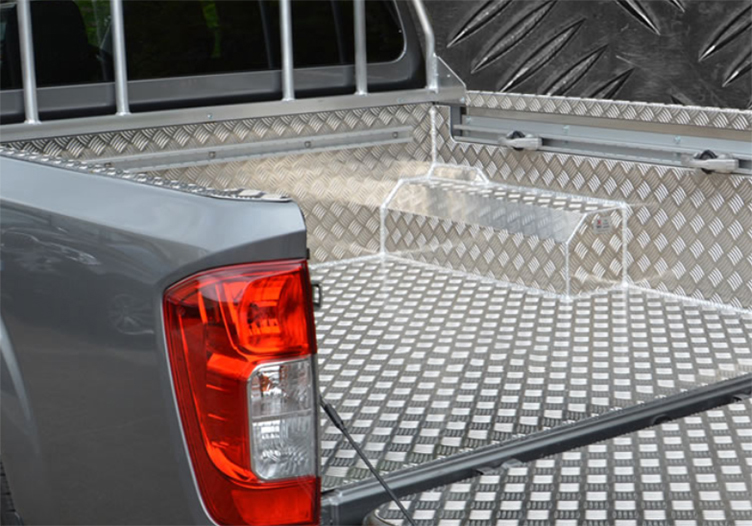 3003 aluminium chequered plate for trailer flooring, also known as anti rust aluminum checker plate, has a slightly higher strength than ordinary aluminum checker plate, and has a certain anti-rust performance. The pattern of 3003 aluminium checker plate is beautiful and generous, not easy to wear, good anti-slip performance, strong corrosion resistance, and easy to wash. At present, the choice of anti skid aluminum sheet for trailers is usually 3003-H24, 3.0mm thickness.
The specification of aluminum chequered plate for trailer flooring are:
Aluminum grade: 3003 aluminum alloy
Temper: H22/H24
Thickness: 1.1-6.35mm
Width: 500-1800mm
Length: as required
The aluminium chequered plate for trailer flooring has a non-slip effect and can be used as floors, workshop escalators, work frame pedals, ship decks, car bottom plates, workshops, large equipment or pedals for ship walkways and stairs. The three-rib/five-rib aluminum checker plate has good anti-skid ability, and is widely used in the design of building (floor) platforms.
Contact Us
1103, No.14 Waihuan Road, CBD,Zhengzhou, China
+86-0371-65621391