The common aluminium chequer plate sheet sizes are 4×8, 4×10 with patterns of one diamond, three bars and five bars. Alloys include 1060, 5052, 5754, 6061, etc. Because of their superior anti-skid effect, aluminium chequer plate sheet are widely used in construction platforms, stairs, carriages, ships, and other fields. .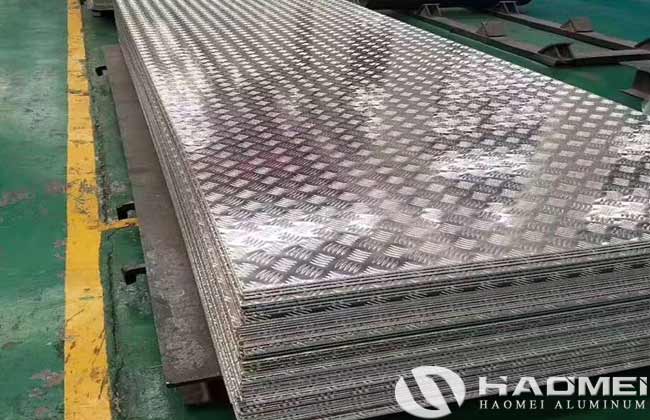 For the anti-skid carriage, a wide aluminium chequer plate sheet sizes is usually used, and there are certain requirements for material properties. 5754 aluminum chequer plate belongs to the aluminum-magnesium alloy. It has the characteristics of better corrosion resistance, excellent processing performance, weldability and easy processing and forming. It has high wear resistance, good anti-skid effect and long service life, at the same time, quality is trustworthy.
First of all, when identifying the quality of the aluminum chequer plate sheet, the thickness of the aluminum plate should be understood. To identify the specific quality, in addition to checking the specific thickness, you should also check the specific material. During processing and production, if the material selected is better, the quality of the corresponding aluminum chequered plate is guaranteed.
Secondly, it can be distinguished from the color of the material, if the color is better, the corresponding quality is better. At the same time, in the daily maintenance and maintenance process, it is more convenient and meets the daily needs to a greater extent. It is also necessary to learn to compare specific parameters, corresponding structure and other factors, and comprehensively consider, to ensure the selection of more suitable products and ensure the overall use effect.
The use of aluminium chequer plate sheet sizes is appropriate and extensive, including: lighting, solar reflector, building exterior, interior decoration, furniture, cabinets, elevators, car interior and exterior decoration, interior decoration products, household appliances, etc. Haomei aluminum chequer plate has always been sought after by the market, and the product quality is guaranteed and the price is favorable.
Contact Us
1103, No.14 Waihuan Road, CBD,Zhengzhou, China
+86-0371-65621391