The main reason for the 6mm aluminum sheet pricelist difference is the thickness of the aluminum sheet and the surface treatment. The production and processing of 6mm aluminum sheet belong to rolling processing, also known as "rolling" processing. Two types are generally used: hot rolling and cast rolling. In terms of deep-drawing performance, hot-rolled aluminum sheet materials have incomparable advantages over cast-rolled materials. The characteristics of the aluminum sheet casting-rolling method: the internal structure of the cast-rolling plate belongs to the semi-cast structure, and the crystal direction is strong.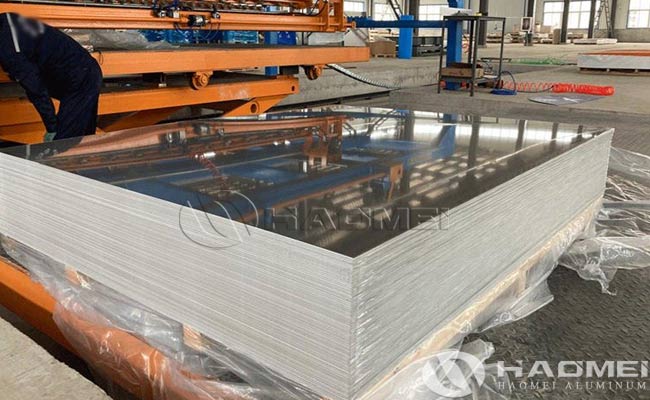 In terms of 6mm aluminum sheet pricelist, we should pay attention to the production technology of 6mm aluminum sheet manufacturer first. Not only must pay attention to product surface problems before product processing, but also pay attention to precautions in surface treatment processing, and use strict processing procedures and processing techniques to avoid the formation of defect. At the same time, pay attention to clean up the oil, dust and golden particles on the equipment to ensure the surface finish and surface scratches of the 6mm aluminum sheet after pressing. Since its inception, aluminum sheet 6mm thick has been favored by designers for its unique texture, rich color, excellent plasticity, form diversity, and weather resistance. Its utilization rate in modern buildings is more and more sought after by people.
The 6mm aluminum sheet pricelist in Haomei Aluminum is reasonable, we offer different grades of 1000, 3000, 5000, 6000 and 7000 series. To buy 6mm aluminum sheet, we have different price list with two processing method. Cold-rolled aluminum sheet and hot-rolled aluminum sheet have different uses. Cold-rolled aluminum sheet are mostly used for molds, and hot-rolled aluminum sheet are suitable for stamping and drawing. The physical properties of the same aluminum sheet material vary greatly due to different manufacturing processes.
Contact Us
1103, No.14 Waihuan Road, CBD,Zhengzhou, China
+86-0371-65621391