Haomei produce 6mm aluminium plate of 1000, 3000, 5000 and 6000 series, it is a kind of medium thick aluminum plate. Aluminum plate 6mm are mainly used in ship, automobile, construction equipment and pressure vessel (gas / oxygen cylinder, etc.). The grade of 6mm aluminum plate are: 1000 series of 1050, 1060, 1070 and 1100, 3000 series of 3003, 3004 and 3005, 5000 series of 5052, 5083, 5086, 5182, 5454 and 5754, 6000 series of 6061, 6063 and 6082. The temper of aluminum plate 6mm are o, h12, h14, h18, h111, h112. The width of 6mm aluminum sheet is 500-2650mm, the length is 500-16000mm.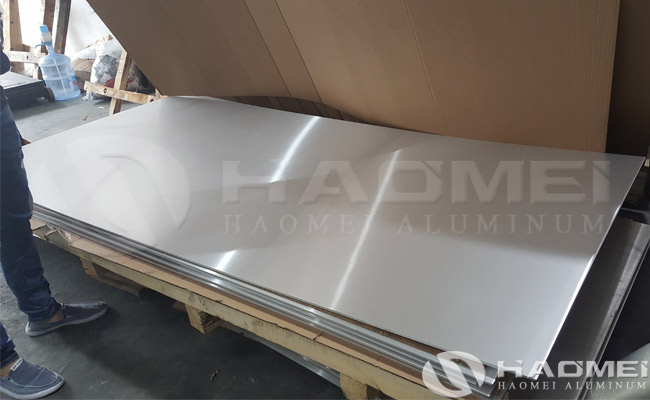 As one of the top aluminum plate suppliers in China, the aluminium plate 6mm produced by Haomei has the advantages of :
1, Cut flat
The newly imported large-scale automatic aluminum plate cutting equipment has smooth cutting edge, no burr at corners, accurate cutting, small tolerance, and normal tolerance of cutting processing is 1-2mm.
2, Various specifications
According to different alloys, we have 0.2mm-500mm aluminum plate with conventional thickness, which can be customized with ultra long, ultra wide and ultra thick aluminum plates. The customization cycle is 3-10 days. Advanced equipment technology can meet your various needs.
3, Inside and outside are the same
The aluminum plate with smooth surface, high flatness and invisible to the naked eye has been strictly tested by various imported instruments, and it is approved to leave the factory after passing the test, such as direct reading spectrometer, ultrasonic flaw detector, hydrogen detector, section scanner, scanning electron microscope, etc.
4, Customized processing
We have dozens of equipment, advanced and diversified processing equipment, large-scale computer-controlled automatic aluminum plate cutting machine, which can cut 2.4m long plates with a cutting tolerance of 1mm. In addition, which can process and cut the 6mm aluminium plate according to the size required by customers.
Contact Us
1103, No.14 Waihuan Road, CBD,Zhengzhou, China
+86-0371-65621391