5052 h32 aluminium sheet is a commonly used aluminum-magnesium alloy sheet plate of 5052 aluminum alloy, it is formed by hot processing. The texture of the 5052 aluminum sheet is soft, and it can be bent (90 degrees), punched, and stretched (shallow stretching). The magnesium content of 5052 aluminium sheet is about 4%, which is a typical aluminum-magnesium alloy. The H32 temper of 5052 aluminium sheet means that the aluminum sheet product is stabilized by heat treatment and low temperature annealing after work hardening. There are many specifications of 5052 aluminum sheet in H32 temper, both thin sheet and thick plates are commonly used.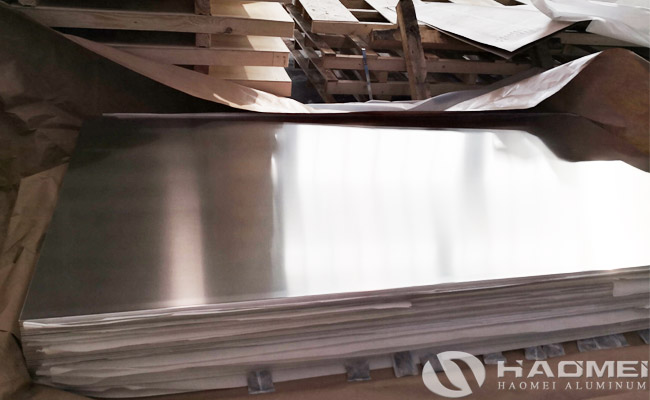 The strength of 5052 h32 aluminium sheet is higher than that of the 1000 and 3000series aluminum sheet, and it is a medium and high-strength aluminum alloy with good fatigue resistance and welding performance. Aluminium sheet 5052 h32 has high tensile strength and high elongation, good resistance to marine atmospheric corrosion. 5052 aluminum sheet belongs to the series of hot-rolled aluminum sheet, so it can be used for deep oxidation processing. While comes to application, the usages of 5052 aluminium sheet are various auto parts, sheet metal parts, mechanical parts, shipbuilding, automobiles, aircraft fuel tanks, warships, submarines, containers, home appliances, refrigerator linings, etc.
Haomei Aluminum offer aluminum sheet 5052 H32 with high performance. The tensile strength of 5052 h32 aluminium sheet is 220-280MPa, the yield strength is above 110MPa, and the elongation is greater than 12%. It is suitable for sheet metal processing such as stamping and bending. The 5052 aluminium sheet material has good anodic oxidation performance and can be oxidized and colored into various bright and bright colors. After the aluminum sheet 5052 is oxidized, the surface of the plate is uniform and the color is uniform.
Contact Us
1103, No.14 Waihuan Road, CBD,Zhengzhou, China
+86-0371-65621391