Haomei offer good 5 mm aluminium sheet price which can be widely used in many industries such as vehicles, ships, instruments, hardware products, molds, etc. The aluminium sheet product supplied by Haomei Aluminum have a complete range of specifications, and their thickness and width can be customized according to the actual needs of users. Generally, the the common specifications of 5 mm aluminium sheet with higher sales are: 3003 aluminium sheet, 1060 aluminium sheet, 5052 aluminium plate, 5083 aluminium plate, 6061 aluminium plate and so on.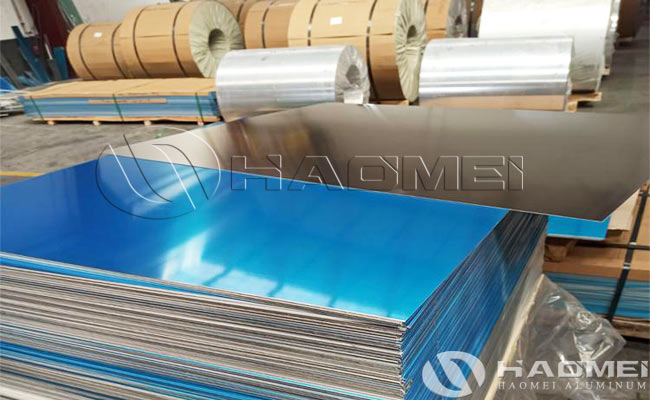 Haomei Aluminum is an aluminum alloy manufacturer integrating R&D, manufacturing, and sales for more than 20 years, we are It is located in Zhengzhou City, Henan Province and has convenient transportation. Our aluminium sheet products cover 1000 series, 2000 series, 3000 series, 5000 series, 6000 series, 7000 series, 8000 series aluminum alloy and other specifications series, the main products are alloy materials, deep drawing materials, brazing plates, medium thick plate. Haomei Aluminum has multiple high-tech production lines, high-level configuration equipment, superb processing technology, guaranteed product quality, sufficient supply, and perfect after-sales service. We will track every order, from pre-sales consultation to after-sales delivery, to ensure user safe after-sales service, butler service, caring, and more trustworthy.
The 5 mm aluminium sheet price quotation is a combination of aluminum ingot price and processing fee. The aluminum ingot price can be inquired online, and the aluminum plate processing fee needs to be combined with various factors such as the aluminum alloy status, specification and quantity required by the user. For specific 5 mm aluminium sheet quotation details, please consultation or call the phone for detailed information.
Contact Us
1103, No.14 Waihuan Road, CBD,Zhengzhou, China
+86-0371-65621391