Haomei Aluminum supply custom 3mm aluminium sheet sizes with alloy of 1050, 1060, 1100, 3003, 5052 and 6061. The price of 3mm aluminium sheet is related to the material level of the aluminum sheet, the surface treatment requirements of the aluminum sheet, and the area size, flatness and uniformity of the aluminum sheet. Aluminium sheet is divided into cold rolled and hot rolled, and also divided into thin plate and medium thick plate. Aluminum sheet has high plasticity, corrosion resistance, electrical conductivity and thermal conductivity, and is easy to withstand various pressure processing, drawing and bending.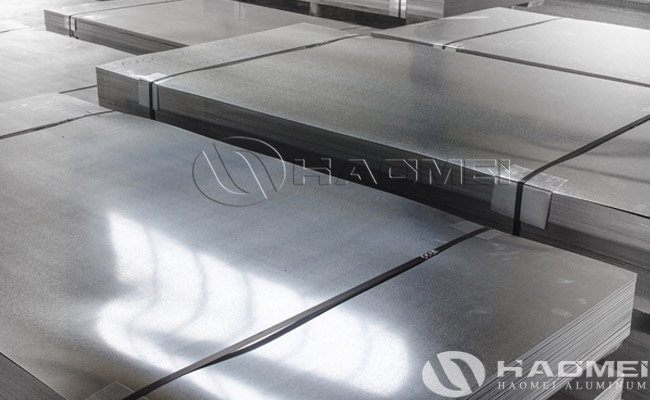 3mm aluminium sheet sizes refers to the rectangular plate made by rolling aluminum ingot, which is divided into pure aluminum sheet, alloy aluminum sheet, thin aluminum sheet, medium thickness aluminum sheet, super thick aluminum plate, checkered aluminum sheet, etc. The aluminium sheet sizes are as follows:
1, Length: The standard length is 2440mm. It can also be customized according to customer requirements, such as: 2000mm, 3000mm, 3200mm, etc. The length is generally unlimited, but convenient transportation is required.
2, Width: The standard width is 1220mm. There are also 1000mm, 1250mm, 1500mm, 1750mm and so on.
3, Minimum thickness: 1mm, generally the thickest is 200mm.
The classification of 3mm aluminium sheet sizes are: Series 1000: Industrial pure aluminum. Series 2000: Aluminum-copper alloys. Series 3000: Aluminum-manganese alloys. Series 4000: Aluminum-silicon alloys. Series 5000: Aluminum-magnesium alloys. 6000 series: aluminum-magnesium-silicon alloys. 7000 series: aluminum-zinc-magnesium-copper alloys. 8000 series: other alloys.
Contact Us
1103, No.14 Waihuan Road, CBD,Zhengzhou, China
+86-0371-65621391