The 3mm aluminium chequer plate is embossing on the aluminum plate by mechanical equipment, which makes the surface of the aluminium plate appear uneven. Due to the excellent corrosion resistance and slip resistance of the aluminium chequered plate, it has been adopted by many industries and has become popular. In general, aluminum chequer plate is used as an anti-skid board. There are many types of aluminium chequer plate product, according to the pattern type, they can be divided into diamond aluminum plate; one bad, three bars and five ribs aluminum checker plates; orange peel aluminum plates; lentils patterned aluminum plate. According to the type of alloy, aluminium checkered plate can be divided into pure aluminum checkered plate, aluminum-manganese alloy checkered plate and aluminum-magnesium alloy checkered plate.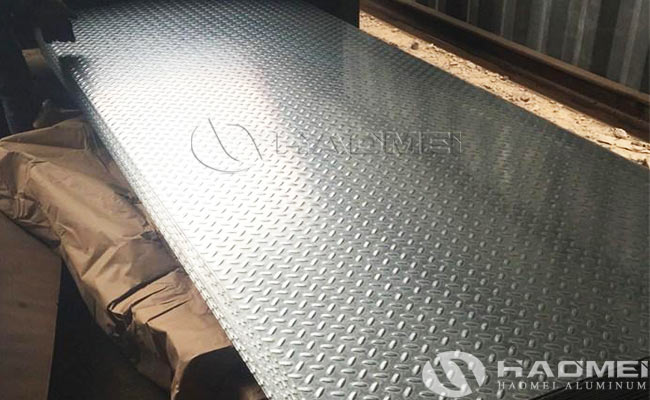 The 5052 aluminum chequered plate is the typical product of the 5000 series aluminum-magnesium alloy checkered plate. 5052 aluminum-magnesium alloy checker plate has good milk corrosion, hardness and anti-rust performance. The main chemical components of 5052 aluminum chequer plate products: silicon Si (0.25), iron Fe (0.4), copper Cu (0.1), manganese Mn (0.1), magnesium Mg (2.2-2.8), chromium Cr (0.15-0.35) zinc Zn (0.1) . Usually used in special places, such as ships and cabin lights in a humid environment. This kind of aluminium cheuer plate has high hardness and a certain load-bearing capacity.
Haomei Aluminum is a large-scale aluminum processing enterprise and listed company specializing in the production of 3mm aluminium chequer plate, strips and foils. Haomei Aluminum has long-term supply of high-quality aluminum checker plates. Haomei Aluminum aluminum chequered plate series of hot-selling products include 1060 aluminum checker plates, 3003 aluminum checker plates, 5052 aluminum checker plates, 5754 aluminum checker plates, 5083 aluminum checker plate, 5086 aluminum chequered plate with thickness ranging from 1.2-7.0mm. The aluminium chequer plate offered by Haomei Aluminum is widely used in non-slip flooring, decoration and decoration fields such as construction, vehicles, ships, etc.
Contact Us
1103, No.14 Waihuan Road, CBD,Zhengzhou, China
+86-0371-65621391