1060 aluminium plate factory – HAOMEI Aluminum is famous in the aluminum product export market for prime quality and reasonable price. The 1060 aluminium plate product offered by Haomei Aluminum has a flat shape, excellent geometric dimensions, high surface gloss and good alkali cleaning effect. 1060 aluminum sheet has good elongation and tensile strength, and can meet the conventional processing requirements (stamping, stretching) and high formability. The technology of 1060 aluminum plate is mature, and it can also be made into aluminum checker plate, embossed aluminum plate, anti-skid aluminum plate and other styles, and the price has great advantages compared with other series of alloy aluminum plate.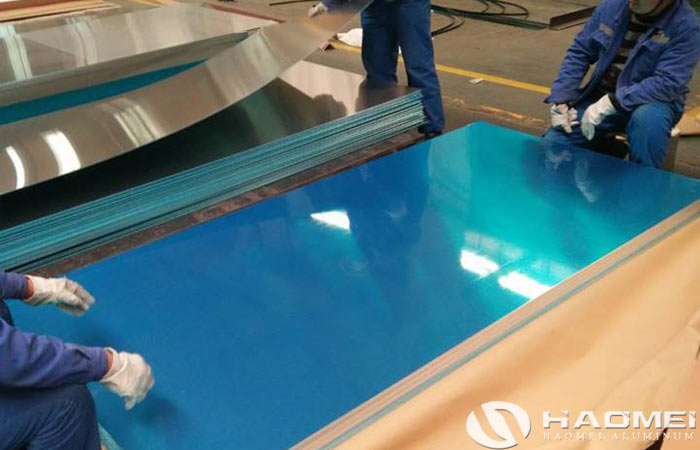 1060 aluminum plate has the best electrical/thermal conductivity, and its corrosion resistance in daily atmospheric environment is comparable to that of 3000 series and 5000 series aluminium alloy. After buy products from 1060 aluminium plate factory, the aluminum sheet 1060 are used in mainly industries:
1, Hot-rolled 1060 aluminum sheet application: battery soft connection, bus interior, auto parts, aluminum-plastic panels, signs, lamps, wide-width curtain walls, bus luggage racks/floors/checker plates (used by Yutong), etc.;
2, Hot-rolled 1060 medium-thick aluminum plate application: aluminum busbar, automobile radiator, new energy vehicle charging pile, mold, etc.;
3, Application of 1060 aluminum foil coil: aluminum foil gasket, food packaging, electronic label, aluminum foil for automobile heat shield, battery foil, battery soft connection, battery tab material, battery explosion-proof valve, etc.;
4, Hot-rolled 1060-O state aluminum application: automotive heat shield, electronic label, battery soft connection, battery tab material, aluminum foil for battery explosion-proof valve, etc.;
1060 aluminium plate factory also supply 1060 aluminum mirror sheet, the mirror polished aluminum sheet have high reflectivity. The reflectivity of the polished surface of 1060 aluminum sheet to white light is more than 80%, and the higher the purity, the higher the reflectivity. At the same time, 1060 aluminum plate has good reflective properties for infrared, ultraviolet, electromagnetic waves and thermal radiation.
Contact Us
1103, No.14 Waihuan Road, CBD,Zhengzhou, China
+86-0371-65621391