Haomei Aluminum is one of the leading 0.5 mm aluminum sheet manufacturers in China who supply aluminium sheet with wide application. 3003 aluminum sheet with thickness of 0.5mm is a common product in the aluminum-manganese alloy series. 3003 aluminum alloy belongs to rust-proof aluminum, it has high corrosion resistance, good formability, high corrosion resistance and weldability. 0.5 mm aluminum sheet 3003 is often used in kitchenware, food and chemical products, processing and storage devices, tanks and tanks for transporting liquid products, various pressure vessels and pipes processed with thin plates, general utensils, heat sinks, cosmetic plates, photocopier drums, ship materials, etc.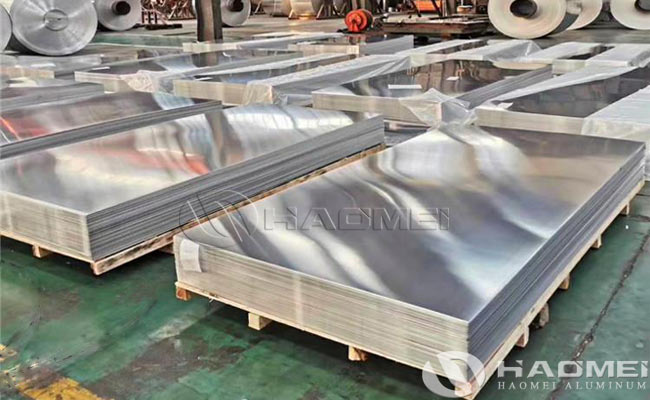 Which 0.5 mm aluminum sheet manufacturers is of good quality? We will know after comparison. At present, the 3000 series aluminum sheet alloy production technology is mature, and many aluminum sheet manufacturers can do it. As far as the quality is better, many customers trust Haomei Aluminum. Haomei Aluminum is a large aluminum sheet, coil, strip and foil manufacturer. We have been in the aluminum processing industry for more than 20 years and has accumulated rich experience. The company's products have excellent quality and reasonable prices, and have won a large number of loyal customers.
As one of top level 0.5 mm aluminum sheet manufacturers, Haomei Aluminum's three major promises, you can purchase with confidence.
1, Quality Commitment:
Haomei Aluminum has its own testing laboratory, strictly implements national standards, optimizes raw materials, controls production processes, and provides standardized products. 0.5 mm aluminum sheet has stable performance and good quality, which is worth buying.
2, Delivery time commitment:
Haomei Aluminum has a large modern standard factory building and advanced production equipment at home and abroad to escort the production of aluminum sheet 0.5 mm. The company has an annual production capacity of 200,000 tons and delivery within 7-35 days to meet your production needs.
3, After-sales commitment:
Haomei Aluminum provides you with full-process, integrated, butler-style services. If you have any questions about product quality, you can contact the after-sales service as soon as possible, and our after-sales service team will issue a solution for you as soon as possible.
Contact Us
1103, No.14 Waihuan Road, CBD,Zhengzhou, China
+86-0371-65621391