Haomei Aluminium is a leading 0.5 mm aluminum sheet factory in China specialized in produce aluminum sheet 1000 series to 8000 series. 0.5 mm aluminum sheet belongs to thin aluminum sheet, it has good hardness and density, good strength, corrosion resistance, abrasion resistance, heat resistance, corrosion resistance, and is not susceptible to corrosion and thermal corrosion. For different aluminum sheet manufacturers, the hardness, wear resistance and toughness of the construction of aluminum sheet metal are very different. The better the wear resistance, the better the corrosion resistance; the worse the wear resistance, the easy to be corroded, so protective coatings can be easily made, and the improvement of strength and heat resistance is irreplaceable.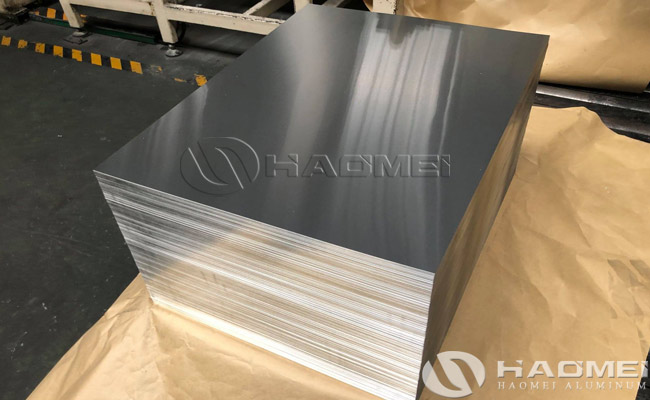 Haomei Aluminum have over 20 years experience on aluminum sheet manufacturing and export. As a 0.5 mm aluminum sheet factory, we find that the 1000 series, 3000 series, 5000 series and 6000 series aluminum sheet products are welcomed by customers. The grades of 0.5 mm aluminum sheet are 1050, 1060, 1070, 1100, 3003, 3004, 3105, 5052, 5083, 5086 and 6061 aluminum alloy. The quality of aluminum sheet are appears in oxidation performance, thickness width length tolerance, surface effect, crystal accuracy and uniformity, etc.
0.5 mm aluminum sheet factory can offer quality certificate such as ISO9001 to meet customers requirement. The density of the aluminum sheet is low, so the aluminum under the same area is lighter, the recycling value is high, and the service life of the aluminum sheet is 3-5 times that of the tinplate. It can save a lot of labor and materials for the user over the service life and purchase cost. The 0.5 mm aluminum sheet are applied in daily necessities, aluminum plates, lighting appliances, reflectors, decorations, chemical industry containers, heat sinks, melted wires and conductive materials.
Contact Us
1103, No.14 Waihuan Road, CBD,Zhengzhou, China
+86-0371-65621391